Featured in this fantastic recipe from our friends at Wholesome Yum!

MAKE RICH, CREAMY FROTH IN SECONDS We coffee lovers are serious when it comes to our coffee. The Milk Boss Frother gives that professional finishing touch to your latte, cappuccino, macchiato or hot chocolate. Make delicious foamy creamer for your drinks at home without a trip to Starbucks with your own milk frother. The benefits of having your own electric drink whisk mixer are endless, you can make your own best latte, you know your tastes best.
MATCHA WHISKING, KETO COFFEE & MORE Customers say our frother works better than a manual matcha whisk for making matcha tea and works far better than fork or whisk for keto bulletproof coffee. It works very well to mix nutritious protein powder drinks with no extra container, blender or bottle shaker to wash. Aerate eggs with our mini mixer for the smoothest omelets and scrambled eggs you ever had. Give healthy shakes and smoothies a kick by adding whey powder or egg nog flavor and mixing.
PROVEN AND TRUSTED QUALITY We use only premium materials. The construction will last, backed by our Zulay Guarantee to not rust or break, ever. Our highly efficient motor works quietly while it rotates more than 200 times in a single second. Our small and efficient frother works on all types of milk - half and half, creamer, soy, almond, cashew, hazelnut, whole milk, and other dairy such as butter or cream.
EASY TO CLEAN AND STORE T

he durable, convenient metal stand

gives easy access for foamy goodness in seconds. Cleanup for this matcha whisk & frother is even faster. To clean just put the whisk in hot running water and briefly turn it on – instantly clean! When stored on counter or table it sits nicely next to other coffee accessories.

Our powerful and durable hand-held milk frother is powered by two AA batteries (not included) with a compact electric design that easily fits in a drawer

.
NO HASSLE, KITCHEN HAPPINESS ZULAY GUARANTEE We love and take pride in our milk frother and we back this up with a lifetime guarantee. Have the confidence that this frother will last, if there are ever any issues, just contact us and we will make it right. Order now and be assured that this product will live up to your expectations, guaranteed. If it does not make your foam exactly how you want it, we got you covered. Happy Frothing. Bulletproof is a registered trademark of Bulletproof 360, Inc.
Treat yourself with a made-at-home latte or cappuccino any morning right in your own kitchen. Save the drive to the coffee shop and get your foamy perfect coffee in the comfort of your own kitchen. Surprise guests or your spouse with your newly found barista skills.
Beautiful and Smooth, Rich Coffee
While we cannot always achieve our #PinterestGoals you can get pretty darn close if you have the right tools. The Zulay MilkBoss packs a powerful punch that can turn ordinary milk into foamy perfection, even enough for latte art. It can also work to mix up your bulletproof coffee with butter, MCT oil or other keto drink mixes you decide to make in your mornings or whenever you want to have some fun frothing.
Easy Battery-Operated Function That Doesn't Hurt Your Wallet
The Zulay MilkBoss was designed with all of your needs in mind. It operates quietly on batteries and can stay on your kitchen counter for many many lattes in the morning or frappes when you most need it. Its long-lasting motor is also built with budget in mind, you can have the wonderful convenience of this luxury frother without the luxury cost.
Froths Milk and So Much More: You can mix hot chocolate, matcha tea, bulletproof coffee, protein powders, chai tea, whipping egg whites, mixing green powders. This milk frother also can work with soy, almond or coconut milks and creamers.
The stand is beautiful and many people prefer to leave it out on the counter as decoration because of its sleekness.
 The whisk cleans in seconds: Simply turn on the frother while under water or inside a glass of hot water to clean.
The ergonomic smooth base is not meant to be immersed in water, so keep the cleaning to the whisk.
Perfect Companion to Our Stainless Steel Frothing Pitcher: At Zulay Kitchen we focus on product quality and you can count on us to bring you products that we use ourselves in our own kitchens.
Our Frothing Pitcher is a great next move to take your milk frothing skills to the next level.
Customer Reviews
08/23/2020
Marla B.
United States
Love it
One of my many COVID purchases and I love it. I've experimented with some of my own recipes and had fun with it. I did find that you cannot use cheap, generic batteries. They don't last long.
Hi Maria, Thank you for your feedback. It does mean so much too us. Don't you just love to find such gems during the quarantine period? We sure do! We hope to see you again!
08/19/2020
Dave L.
United States
Can't live without it!
Remember that moment when you said you could never live without a microwave oven? You will say the same thing about this frother. We love it. It works quickly and does a remarkably good job. Our first one had a switch problem. Customer service was lightening fast getting back to us on-line, and the resolution was the picture of how customer service should be. Pleased to be continuing customers.
Hi Dave, Thank you for your positive feedback! The Milk Frother does change your coffee game and everyone can't live without it. We are so pleased to know that you will be a continuing customer and we can't wait to have you again!
08/09/2020
Janice
United States
Love my frother!
This frother has taken my at home coffee to a new level! What a treat to be able to enjoy coffee with frothed milk everyday! I had a little problem with the first one I received but the company went above and beyond what I expected to make it right. They set the bar high for my expectations from customer service at other companies!! I will absolutely recommend Zulay products to friends and would not hesitate to order from them again!
Hi Janice, Thank you so much for the positive feedback! We would go beyond just to give kitchen happiness to Zulay Kitchen Fam because you are that important to us. We do hope to see you again!
08/02/2020
Debra
United States
Love it!
I absolutely love this milk frothier! After working from home I was missing my fancy coffees and found this to be a great replacement and It's saving me lots of $$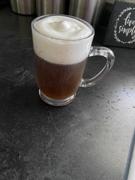 Hi Debra, That's an awesome froth you got there! Looking super frothy and delicious. We do hope to see you again!
08/02/2020
RHONDA W.
United States
Hand frother
My family and I use this everyday! Love love love! Highly recommend!
Hi Rhonda, We love that you love love love your Zulay Kitchen Milk Frother! Thank you for recommending our company and we hope to see you again!