FILTERS YOUR COFFEE WHILE SAVING ITS TASTE Looking for an Eco-friendly filter that doesn't disturb the aroma, flavor or texture of your coffee? We've got you covered. Made from high quality 304 stainless steel, keep your coffee grounds protected while protecting the environment. Helps lock your coffee grounds inside the coffee filter ensuring all the precious coffee nutrients and essential oils pass through for your perfect daily brew.
REUSABLE FOR AS LONG AS YOU WANT This is a permanent and portable coffee filter for all your coffee needs. Constructed with very fine stainless steel mesh that allows smooth bending and durability. More flexible compared to other reusable steel filters. Suitable for the Hario 02 filter holder (1-4 cups) and can be compared to chemex filters, Bodum and other coffee filter holders. Anti-microbial and mold-proof surface allows for a more sustainable coffee filter.
REDUCE YOUR CARBON FOOTPRINT Enhance the flavor of your coffee as well as reduce waste from using paper coffee filters. Never worry about losing the full taste of your coffee again all the while having zero waste in the landfill. Enjoy a delicious cup of coffee made fresh by filtering through this plastic-free and reusable alternative. Make great tasting coffee while reducing your carbon footprint!
MESS FREE & EASY TO CLEAN Collapsible and messy paper basket filters are a thing of the past. This smooth woven steel fabric filter is easy to use and clean. Just heat up the water to your desired temp, add in your coffee grounds and slowly pour in the hot water. Let the coffee maker drip out the water through the fine stainless steel mesh filter, and remove when finished. Our filters are dishwasher safe. Practical and functional!
NO HASSLE, KITCHEN HAPPINESS ZULAY GUARANTEE We love and take pride in our reusable coffee filter and we back this up with a lifetime guarantee. Have the confidence that this product will last, if there are ever any issues, just contact us and we will make it right. Order now and be assured that this product will live up to your expectations, guaranteed. If it does not, we got you covered. Chances are, you will never need to reach out.
Customer Reviews
11/06/2020
Good m.
United States
So great, I wish they made more sizes!
I love this filter. Very fine filter leaving no silty sludge at the bottom of your cup. I'm one of those people who can taste the paper (bleached or unbleached), and this material doesn't leave any taste. This size is great for 1-2 cups (I use 30grams of beans with 500grams water), but I wish they made a #4 filter with this material so I can make a bigger batch. In the photo: Hario v60, Yeti 36oz rambler with chug cap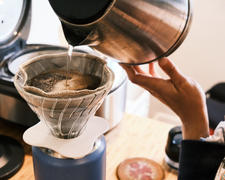 Hello there, Thank you for the lovely photo and your review! We are so happy that we perfected our coffee filters to fit everyones need! Also, we do now see a #4 filter, please do check it out and grab now!
10/31/2020
Lee
Canada
WOW!
Oh. My. Goodness. This is it. I was honestly a bit worried about how fast the water would flow through but this thing holds water better than any paper filter I've used and the lifetime warranty makes it a no-brainer. REALLY good quality brew in my Bodum pour-over system. The grounds are left with the most satisfying foam so you know they had a good chance to brew thoroughly. Just great.
Hi Lee, Thank you for your positive feedback! We are so pleased to know you are enjoying your Zulay Kitchen Pour Over Coffee Filter. We do hope to see you again!
09/13/2020
Susan
United States
Steel mesh coffee filter
I love this filter, and it works really well in my Chemex coffee carafe. I didn't mind the paper ones, and they compost well, but was finding them expensive and a waste of resources. But I have not figured out an efficient way to clean the filter. I want the grounds in my compost pail and hate washing them down the sink as our drains can't handle this well. I tried turning it inside out - big mistake as it is permanently 'crumpled ' now. Any advice on cleaning? I don't see how it will stay put in the dishwasher.
Hi Susan, Our customer service team will reach out to you and help you out with your problem. Don't worry, we are here to save the day!
06/23/2020
Michael
United States
Easy to Re-use
I've been looking for a replacement for my reusable cotton filter. So far so good. I hope it lasts a lifetime.
Hi Michael, Thank you for your feedback. We hope to see you again!