MAKE RICH, CREAMY FROTH ANYWHERE YOU GO
This heavy-duty and portable Milk Frother is ideal for use at home or on the go. The stainless steel case protects the whisks from damage and keeps them clean. Ideal for traveling, the unit is equipped with interchangeable single and double coil whisks, to help you blend and create different amounts of foam. The double coil whisk creates thicker foam with less air and is ideal for latte art, while the single-coil mixes quickly and creates lighter foam.

MATCHA WHISKING, KETO COFFEE & MORE
This powerful frother works better than a manual matcha whisk for making matcha tea and works far better than fork or whisk for keto bulletproof coffee. It's perfect for mixing nutritious protein powder drinks with no extra container, blender or bottle shaker to wash. Aerate eggs with this pro mixer for the smoothest omelets and scrambled eggs you ever had. Give healthy shakes and smoothies a kick by adding whey powder or egg nog flavor and mixing.


POWERFUL & LIGHTWEIGHT
Built with only premium materials - the frother, whisks and cover all made from 18/10 food-grade stainless steel. Built to last and backed by our Lifetime Guarantee. Our highly efficient motor works quietly while it rotates more than 200 times per second. This heavy-duty and efficient frother is lightweight and easy to carry. It works on all types of milk - half and half, creamer, soy, almond, cashew, hazelnut, whole milk, and other dairy such as butter or cream.

SUPER SLEEK AND FUNCTIONAL
The stainless steel cover gives you easy access for foamy goodness in seconds. Cleanup for this frother is even faster. Simply place the whisk in hot running water and briefly turn it on – instantly clean! Our powerful and durable hand-held milk frother with a compact electric design that easily fits in any bag or suitcase. Add a delicious finishing touch to your coffee anywhere you go.


NO HASSLE, KITCHEN HAPPINESS ZULAY GUARANTEE
We love and take pride in our milk frother and we back this up with a lifetime guarantee. Have the confidence that this frother will last, if there are ever any issues, just contact us and we will make it right. Order now and be assured that this product will live up to your expectations, guaranteed. If it does not make your foam exactly how you want it, we got you covered. Happy Frothing. Bulletproof is a registered trademark of Bulletproof 360, Inc.
Customer Reviews
02/02/2021
Michael

Germany
A really great pice of technic
no matter, if you use the single or the double coil, the frother is doing his job great. There is plenty of power to get an incredible foam or frothed milk. We use it with lactose free milk. We found this item at Amazon and we would be happy, if there where more to buy from Zulay -Kitchen® here in Germany. Thanks a lot and stay health :-) With kind regards, Michael
Hi Michael, Thank you for such wonderful feedback! Rest assured that we are working on spreading Kitchen Happiness globally! Stay tuned for more products soon! We can't wait to hear from you again.
01/28/2021
Juan d.

Spain
Cambio de barilla
Como he de hacer para cambiar intercambiar las barillas de emulsionador en el zulay kitchen?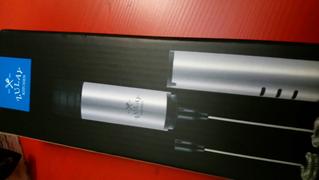 Hola Juan, Gracias por tu comentario. Enviaremos tu inquietud al Servicio de Atención al Cliente. Por favor, mantente al tanto de tu correo electrónico. Estamos deseando volver a saber de ti pronto!
04/10/2020
Cheryl K.

United States
Wonderful Kitchen and Take With You Equipment
Easy to use, not difficult, yes a child can work it. Then make great breakfast drinks, and lunch, dinner or ...name it! And I can take it with me where ever I go.
Hello Cheryl! Thank you so much for your positive feedback. We only want the kithcen happiness you deserve! We hope too see you again.