UNIQUE MAGNETIC DESIGN Made from sturdy and durable stainless steel, each measuring spoon has a magnetic handle allowing it to be easily detached and l reattached after use, making these spoons incredibly convenient kitchen tools. The magnets are strong enough to fasted securely to any metal surface and hold all spoons together during storage. Beautiful and durable design will bring value to your kitchen.
CONVENIENT DOUBLE-SIDED USE Each measuring spoon is dual-sided. Slim end fits narrow spice jars while rounded design is perfect for scooping and measuring liquid ingredients. Steady, ergonomic handle allows spoons to lay flat on counter tops without spilling their content. Included is a stainless steel leveler with engraved measurement markings for accurate and extra-easy leveling.
PRECISE & ACCURATE MEASURING Designed to handle and provide accurate measurements with dry and liquid ingredients. Handles display both U.S. and metric measurement markings. Easy to fill and level. Slim end fits almost any spice jar or container with narrow opening. Rounded end effectively measures liquid ingredients.
VERSATILE DESIGN Stainless steel, progressive measuring teaspoons can also be used as watermelon ballers, to measure coffee, protein powder, spices, baking powder, oil, vanilla extract and more. The magnet allows you to attach these beautiful spoons to you refrigerator or any other metal surface. Compare to prepworks magentic mesuring spons, meaduring, messuring and measureing spoons.
NO HASSLE, KITCHEN HAPPINESS ZULAY GUARANTEE We love and take pride in our magnetic measuring spoons and we back this up with a lifetime guarantee. Have the confidence that this product will last, if there are ever any issues, just contact us and we will make it right. Order now and be assured that this product will live up to your expectations, guaranteed. If it does not, we got you covered. Chances are, you will never need to reach out.
Double-Sided Magnetic Measuring Spoon 8 Piece Set with Leveler
Made with high-grade stainless steel
Magnetic handles allow each spoon to detach and reattach for easier use
Magnets prevent spoons from separating during storage
Double-sided design for multifunctional use
Slim end fits spice jars and narrow containers
Rounded end perfect for liquid and dry ingredients
Easy to hold sturdy handle
Leveler with clear measurement markings
Every spoon features US and metric measurement markings
Compact, magnetized design for easy storage
Set Includes 7 Double Sided Spoons and 1 Leveler:
1/8 Teaspoon (0.62 ML)
1/4 Teaspoon (1.25 ML)
1/2 Teaspoon (2.5 ML) 
3/4 Teaspoon (3.75 ML)
1 Teaspoon (5 ML) 
1/2 Tablespoon (7.5 ML)
1 Tablespoon (15 ML)
(1) Leveler
Lifetime Money Back Guarantee
If for any reason you aren't fully satisfied, EMAIL US SAYING WHY. We will give you a full refund or free replacement. Never deal with the hassle of returning. We respond within 24 hours.
As featured in these great recipes:
Customer Reviews
11/20/2020
Karen
United States
Great measuring spoons
I've been looking forever for measuring spoons to replace my Tupperware ones. I loved my Tupperware ones because they had the most measuring spoons. Most only came with 4 measuring spoons until I found these! They have the same amounts as my other ones but they are easier to see, they are metal so they won't melt in the dishwasher and best of all they're magnetic. I can put them in the drawer and don't have to hunt for them because they're all together. Almost forgot each one comes with two ends so the skinny end will fit in small openings!!
Hi Karen, We are so happy you found the one! This measuring spoon will surely be a staple in your kitchen We can't wait to see you again
11/09/2020
Sue E.
United States
Easy measuring!
This set of measuring spoons is perfect for any size openings and has a wide range of measurement! The magnetic storage is handy to keep all the sizes together! The lifetime warranty is a plus!! Definitely recommend!
Hi Sue, We are delighted that you are enjoying our Magnetic Measuring Spoon! We do hope to see you again
11/04/2020
Camille
United States
Sturdy Product
This is definitely a unique product and it is very good quality. I am an avid baker so this will get many uses. My only concern is the label of the measurements on each spoon, it seems to wear off too easily. My 1/2 tablespoon label already had worn out when I opened my packaged. I believe this can be improved by having a permanent engraving. I truly hope this will last me a long time because I like all the features of the spoons - magnetic, double sided, range of measures, leveler. Again, the label just needs improvement.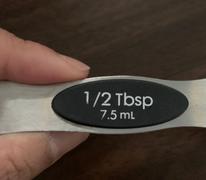 Hello Camille, Thank you for your feedback and surely we will take this into consideration. We really appreciate your honest review as this will help us make our products even better! We do hope to see you again
10/20/2020
Terri E.
United States
Awesome!
Love this set... Fan of Zulay items... The BEST quality
Hi Terri, Thank you for your loving our products and we hope to see you again! ❤️
10/05/2020
MJ B.
United States
Measuring Spoons - Excellent Quality!
The overall quality of the measuring spoon set is excellent (very heavy-duty). I like the fact that the set starts with 1/8 tsp and includes a 3/4 tsp. measurement as well. Overall ordering experience was excellent and product shipped quickly. I will be a return shopper!
Hi MJ, Thank you for your positive feedback! We are glad that you are loving your Zulay Stainless Steel Magnetic Measuring Spoons. We are always want to be on top of everything to give our dear customers the best! We do hope to see you again