DELUXE COOKIE PRESS  Crafted to stand the test of time with its classic, stainless steel, and anodized aluminum design, this cookie press guarantees efficient performance for a longer time. It comes with the perfect size dough chamber and 20 different decorative cookie stencils designed to press delicious and beautifully crafted cookies directly onto the baking sheet. You can easily adjust the size of the cookies with the turn of a knob.
SIMPLY FILL & PRESS  The easy to fill dough chamber and ergonomic lever can dispense 35 to 40 small cookies or 20 to 25 large cookies in a single batch. Efficient and easy to use design makes this cookie dispenser a cut above other models. The 20 decorative stencil discs and 4 icing tips are easy to switch out, allowing you to create many different cookie variations perfect for Thanksgiving, Christmas, and every occasion!
GREAT VALUE  Classic, durable, and easy to use cookie press that is worth the price. It is offered with a long list of useful features. It is tough, user-friendly, and versatile. Includes 20 design discs and 4 icing tips. Perfect for homemade spritz cookies and churros.
KITCHEN HAPPINESS ZULAY GUARANTEE We love and take pride in our cookie press and we back this up with a lifetime guarantee. Have the confidence that this item will last, but if there are ever any issues, simply contact us and we will make it right. Order now and be assured that this product will live up to your expectations, guaranteed. If it does not make you happy, we got you covered. Chances are, you will never need to reach out. Happy Baking!
This product will blow you away and make your cookie making SO much better! But don't just take our word for it! Check out this review, which includes detailed instructions and a cookie press recipe! MakingLifeBlissful.com
Customer Reviews
07/21/2021
Natalie

United States
Wonderful Cookie Press
The cookie press was easy to use! It comes with 14 stencils which is great! Easy to clean as well! My kids loved making cookies tonight. They could even do it! We did a classic spritz recipe! Next time we may try some dipped or jam cookies!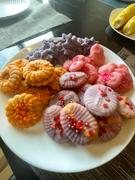 Hi Natalie, Thank you so much for the review! Cookies looking so delicious too! It means a lot to us. We can't wait to hear from you again soon ❤️
05/07/2020
Harpreet k.

United States
Good one
I brought this from amazon and i used once and it works beautifully. I am going to buy two more for my mom and sister. Price is reasonable and quality is good.
Hi Harpreet! We are so happy you are enjoying your Cookie Press. We love that you would share this your mom and sister. We do hope they love it as much aws you do too! We hope to see you again