EXTRACTS THE MOST JUICE POSSIBLE Professional quality most efficient juicer squeezer. Gets the maximum amount of juice from oranges, lemons, limes, grapefruits and other fruit, with no seeds. Just pull the comfortable firm grip handle down for the fastest and easiest citrus juicing while your hands stay clean.
COMMERCIAL GRADE HAND PRESS EXTRACTOR Made of durable, heavy duty cast iron with ergonomic design. The citrus juicer uses leverage and gravity to get the job done with little effort. Lever action practically does the work for you. Powerful and safe crusher capabilities. Crush and squeeze a variety of small fruits and veggies in the comfort of your kitchen.
MORE FRUITS TO ENJOY THAN YOUR HANDHELD JUICER The 5" (5 inch) diameter cup allows it to be used with various types and sizes of fruit, it can handle most of the largest grapefruit. Easier than hand held jucers such as Mexican elbows. You and your family will love the healthy and nutritious juices you can get from apples, pineapple, pomegranates, Meyer lemons, Key limes, limequats, Mexican limes, Eureka or Lisbon lemons, Rangpur or Tahiti citrus limes, from Florida, California or abroad.
EASY CLEAN Wipes clean in seconds, focus more time on juicing than clean up. Featuring stainless steel strainer cup / detachable parts that are dishwasher safe. Exprimidor / esprimidor manuel de jugos, naranjas y limones mejor que exprimidor electrico.
SAFE AND STABLE Heavy cast iron citrus juicer with built with rubber feet stays firmly in place to help reduce sliding around, tipping and falling.
Get delicious, healthy juices for you and your family with half the work of other juicers.
The citrus juicer gets every last drop out of lemons, limes, oranges and other fruits and vegetables
Relieves your hands from the strain of squeezing citrus fruits manually
Keeps seeds and pulp out of your cup without a separate strainer
Impress your family and guests with fresh OJ for breakfast
Lemonade maker - squeeze your own fresh lemonade!
Make cocktails out of fresh, not canned juice – you'll notice the difference
Easy to use – give your hands a break!
Just put half a lemon, lime, orange or other fruit it in the juicer and pull down the handle
Leverage and gravity work to make the job easy
Juice dozens of citric fruit without getting tired
Remove strainer cup for easy clean up in the sink or dishwasher; entire tool wipes clean in seconds
Heavy Duty, Industrial, Cast Iron Construction
Stable to use with rubber feet to prevent slipping
Designed for in-home use but it's also commercial/professional grade – ready for use in restaurants, bars and grocery stores, or start your own juice stand
More quiet and eco friendly than electric and automatic machines
Compare to Williams Sonoma manual juicer. We offer a Lifetime Money Back Guarantee on the unit, No Questions Asked.
We believe in our product so much that if for any reason you are not fully satisfied, EMAIL US SAYING WHY and we will give you a full refund or free replacement. Never deal with the hassle of returning, our family-owned company is based in the USA, we respond within 24 hours.
Don't just take our word for it! Our product is known and loved by many, such as featured in this great recipe for Orange Crush Cocktails from savoryexperiments.com
Customer Reviews
11/15/2020
Dina
United States
Worth Every Penny!
My husband and I have started to drink warm water with lemon juice and sea salt every morning. Lemons are not cheap and I felt my hand citrus juicer was not squeezing as much juice out of the lemon as I would like. My husband was initially upset that I purchased yet another kitchen gadget. With just one use I won him over. We both love this super easy to operate and clean citrus juicer!
Hi Dina, Thank goodness your husband loves it too! *phew* We do hope you both enjoy freshly squeezed lemon every day without any worry!
09/03/2020
Michael G.
United States
Exceeds my expectations
I couldn't be happier with the product. It's the latest addition to my bar where we now make real fruit crushes! It's easy to use, easy to clean, and looks great on the bar top. This press is the real deal and worth every penny!
Hi Michael, Thank you for trusting Zulay Kitchen! We are delighted to read that you are having a blast with our Heavy Duty Citrus Juicer. We do hope to see you again
09/03/2020
Candise L.
United States
I absolutely love it. It makes making orange juice a snap. My grandchildren can make lemonade so easy with this juicer too.
Hi Candise, We are absolutely delighted that you love our Citrus Juicer! We do believe that you are giving us a 5-star rating. We do hope to see you again!
08/12/2020
Darryl V.
United States
Citrus Juicer - Manual Press
Received my Juicer yesterday. Juiced a bunch of fread oranges in record time. The clean up is super easy. The press is very solid and easy to operate. Awesome Product!
Hi Darryl, Thank you for your positive feedback! We are so happy you are able to use your Heavy Duty Citrus Juicer and it worked wonderfully. Nothing beats a freshly squeezed juice to get your daily vitamins! We hope to see you again.
06/13/2020
Romy
United States
Wonderful
Very beautiful color .The service is very good. The product is quality and nice to used. I would like to buy more in the future.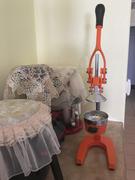 Hi Romy! Thank you so much for your positive feedback. We are more than happy that you our product has pleased you. We can't wait to see you again!