SIMPLE TO USE & BUILT TO LAST This premium garlic crusher and mincer is constructed from high-quality, food-grade materials meant to extract more garlic paste from cloves. Easy to use with a comfortable ergonomic design for quick results and minimal effort on your wrists and hands. Perfect for professional and home kitchens alike.
CRUSH AND MINCE UNPEELED CLOVES Peeling and chopping garlic can be tedious and messy work. Not to mention the strong odor of garlic left lingering on your hands. Thanks to the heavy duty and ergonomic design of this sturdy garlicpress, you can crush and mince unpeeled garlic in one single move, yielding beautiful and delicious garlic pulp.
EASY TO CLEAN Simply rinse your press under running water or place in dishwasher for thorough cleaning. We recommend rinsing right after use to avoid residual garlic pulp and fibers becoming hardened.
MULTI-USE TOOL Don't have mortar and pestle? Fill the garlic press chamber with coriander seeds, cumin seeds or peppercorns when any recipe calls for "freshly cracked" or "coarsely ground" seeds. This amazing garlic press also enables you to crush ginger, onions and crush nuts. Simply fill the garlic press chamber and squeeze to crush.
GREAT VALUE WITH 100% MONEY BACK GUARANTEE This top quality Garlic Press is moderately priced yet constructed to last, providing you with incredible value. We are so confident you will love your new Garlic Press that if you try our product and are not 100% satisfied we will be glad to issue a full refund or free replacement.
Extract More Delicious Garlic Paste with this High Quality - Long Lasting Garlic Press
Large capacity chamber yields more garlic paste per clove
Place garlic cloves in the garlic masher chamber and press the handle for delicious garlic pulp
Easy to use and no garlic odor on your hands despite multiple presses
Machacador de ajos. Exprimidor o triturador de ajo
 No Time to Peel, Chop and Prep Garlic by Hand?
Heavy duty and ergonomic design squeezer will press, crush and mince garlic in seconds, resulting in uniformly pressed bits of garlic vital to the creation of delicious, home cooked dishes. Especially when a salad dressing calls for garlic. Unlike a dicer, slicer, rocker, cutter, electric grinder, zoom garlic chopper machine or helix press - this garlic press makes prepping simple and gets the job done while keeping your hands safe.
 Press, Mince and Crush Ginger, Nuts, Seeds and even Onions!
You can do the same when a recipe calls for onion. Tiny bits of onion and juice work better than the results from chopping or mincing with a knife, grater or other crushers. Simply press the onion through the garlic presser and your recipes will taste amazing!
 Pro-Tip
 Best Way to Peel Garlic - Place cloves in a bowl, cover with another bowl to form a sphere and shake. The peels will flake off.
 Garlic Brings its Distinct and Delicious Flavor to a Variety of Dishes and Powerful Properties that Promote Good Health
For these reasons this Premium Garlic Smasher is an essential gadget that belongs in your kitchen!
 Order Now and take Advantage of Our Lifetime Money Back Guarantee!
If you aren't fully satisfied with this product, we will issue a full refund or free replacement. Never deal with the hassle of returning. We respond within 24 hours. Happy Pressing!
Customer Reviews
11/02/2020
Reesa R.
United States
Perfect!!
It's great!!!!
Hi Reesa, We are pleased to see you are enjoying your Garlic Press! We will make it right with the other product you have purchased. We do hope to see you again!
10/11/2020
Cheryl
United States
AWESOME
First I have to let it be known Zulay is my to-go place. If they don't have it, I wait for it. Now about the Garlic Press: If I thought people would not think I was crazy, I would carry it every where to show off its talents and beauty. As it is being a great good looking worker its always on the kitchen counter.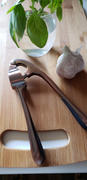 Hi Cheryl, You are uh-mazing Thank you for the never-ending support of our small business. We make sure to take good care of our loyal customers and hopefully, we have fulfilled that! We can't wait to see you again
09/29/2020
Stephy
United States
Vampires Beware!
After breaking 2 garlic presses within 6 weeks from other brands, I decided to first get fancy with the rose gold and also give up on ever having a garlic press that I was me-proof if this one did not work. 6 weeks later, I use this garlic press several times a week, and it is great! Plus there is a guarantee because Zulay stands by their products. Worth it right there! With several color options, you can go ahead and get fancy too!
Hi Stephy, That is awesome! We surely know vampires are now afraid with all garlic you just made. We do hope to see you again!
09/28/2020
Alex D.
United States
Love it..
Love the garlic press and your story, as a first-generation Cuban American glad that we can support other American Latins. Keep up the great work
Hi Alex! Thank you for your positive feedback! We are glad that you have come like to our products. We must support each other epecially in this trying times. We do hope to see you again!
Garlic Press
Very handy.
Thank you for your feedback! We do hope for you to come back again :blush: